Quick Summary of Step-by-Step Guide:
In-Depth Step-by-Step Guide:
> Access Company > PTO
Define your rates for PTO and Sick Time by clicking the 'Company' tab and then the 'PTO' sub-tab.



NOTE: You will see an 'Employee' and 'Manager' accrual group already outlined for you to use as a guide, but you can customize/edit them however you would like. These accrual groups are important because when you set up your employee's profiles, you will assign them to the applicable accrual group for however you'd like their PTO/Sick Time to accrue.



View/Edit Default PTO Accrual Groups
Click the pen and paper icon to view/edit the details, some of the information is pre-filled for you. Be sure to click 'Save' when finished.


Understanding PTO
Definitions - Accrued:
Employees will earn their PTO
- Vested: Employees will be "gifted" a specific amount of PTO up-front
- Full PTO: Employees will earn PTO no matter how many hours they work
- Pro-rated PTO until ___ hours: Employees need to work a minimum of ___ hours to earn PTO
- Pro-rated PTO: Employees will earn PTO for however many hours they work that week
- Cap: Employees will earn PTO, but cannot exceed their outlined cap amount



> Select New Accrual Group (if applicable)
If you need to add more groups, click on the 'New Accrual Group' button and fill in the required information, then click 'Save'.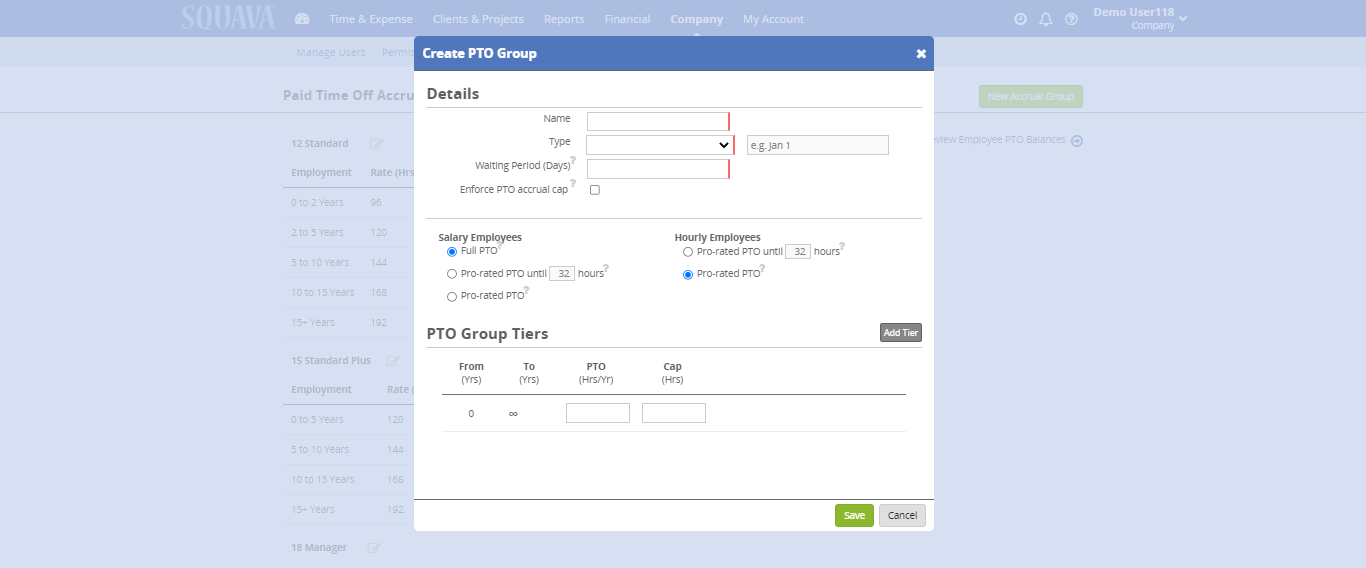 SUCCESS!!!
Now that you've defined your PTO/Sick Time accrual rates, you need to add your list of employees to be added as users so they can accrue their PTO/Sick Time.
Check out the Help Article: Add or Edit Employees.