The Chart of Accounts is your financial backbone, or ledger, used for tracking every account in your business. This ledger organizes your business financial accounts which are important to manage your business finances and easily track income, expenses, assets, and liabilities.
Best Practice Suggestions:
Keep it simple. We suggest keeping your Chart of Accounts as simple as reasonably prudent to manage your financials. It's easy to get excited and create lots of detailed expense accounts because it seems like a good idea to categorize all that information; but at the end of the day, you will likely spend little time monitoring many of those expense account details.
Consult an Accountant/CPA. They should know and understand your business and how its operation should be effectively organized to allow easy financial tracking, tax preparation, and financial auditing. Your accountant or CPA will help you create a financial account structure best suited for your business and operation. Besides... a good Accountant is a critical team member to a successful business.
This article will show you how to manage and customize your Chart of Accounts.
Quick Summary of Step-by-Step Guide:
In-Depth Step-by-Step Guide:
To access/review your Chart of Accounts - Click on the Financial tab then the Chart of Accounts sub-tab.




Add a New Account or Sub-Account
To Add a New Account, click the + New Account button to the right of the search bar near the top-right.





You will see a popup with an interface to define your

New Account

.

Enter an Account Name

Select the Account Type by clicking in the box labeled Type and choosing an option from the drop-down menu
If your new account is intended to be a sub-account, then you will click in the box labeled Sub-Account of, and choose from the drop-down menu.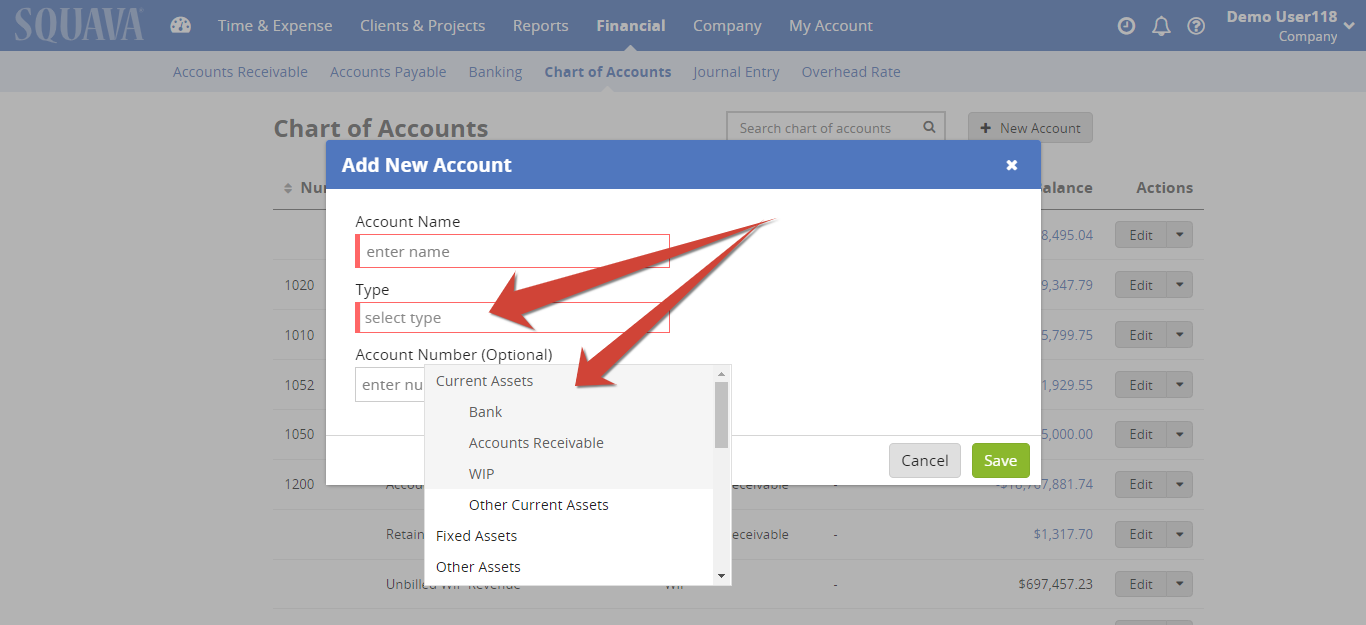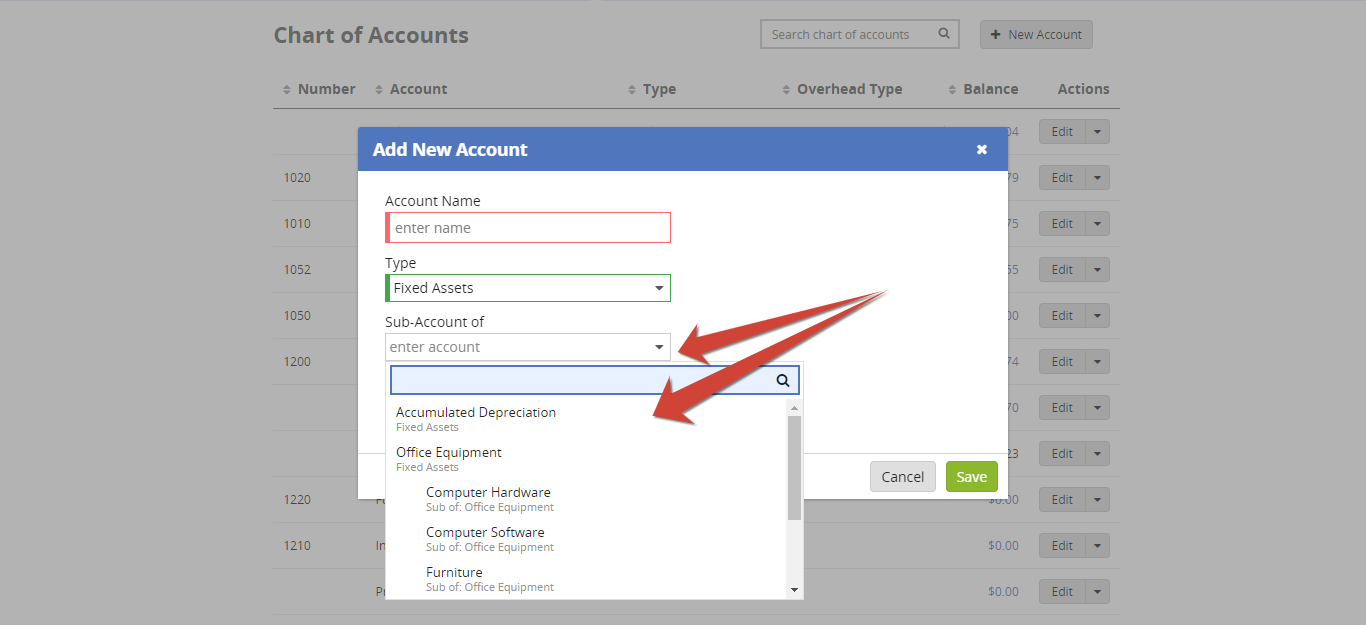 Note
: You can also quickly add a sub-account by selecting
the arrow in the
Edit
icon on the far right of the associated account in your list of accounts, then selecting Add Sub-Account from the drop-down menu. This drop-down menu will also give you the option to Delete an account. See step #4 below for more information on removing an account.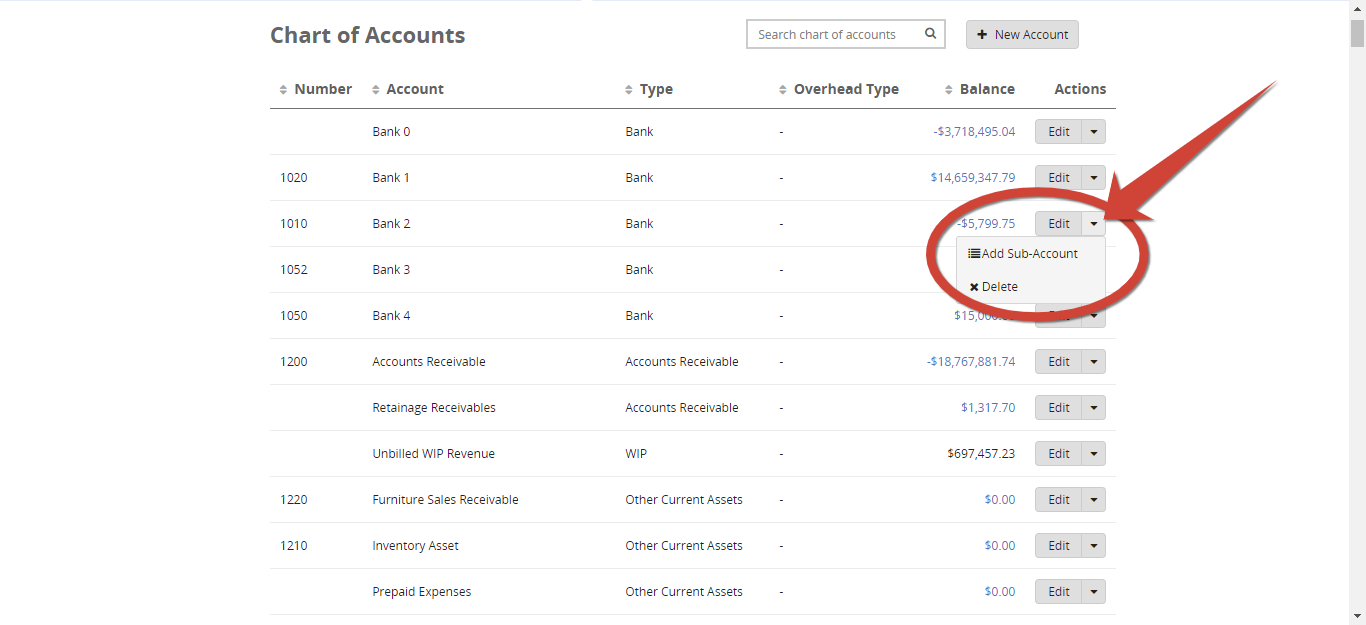 Edit Account(s)
To edit an existing account, click on the Edit button on the far right. Here you can edit information about the account or sub-account.
Note: Depending on the account you select, you may have limited ability to enter or change certain information about that account.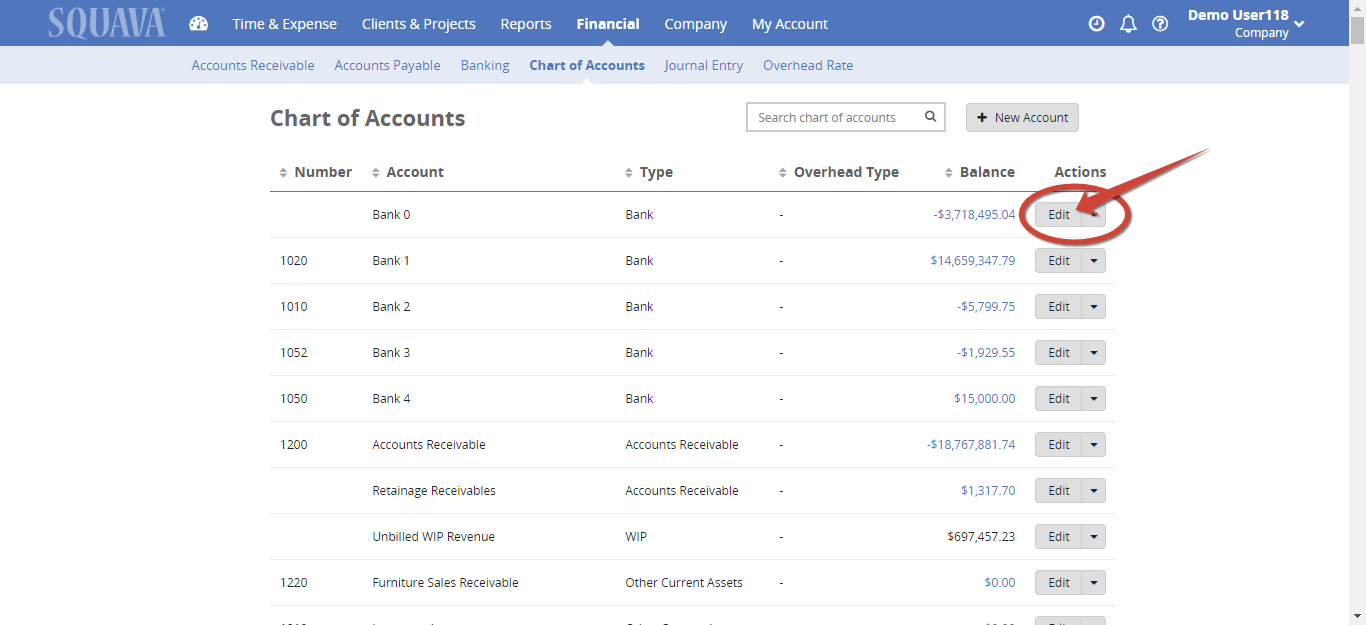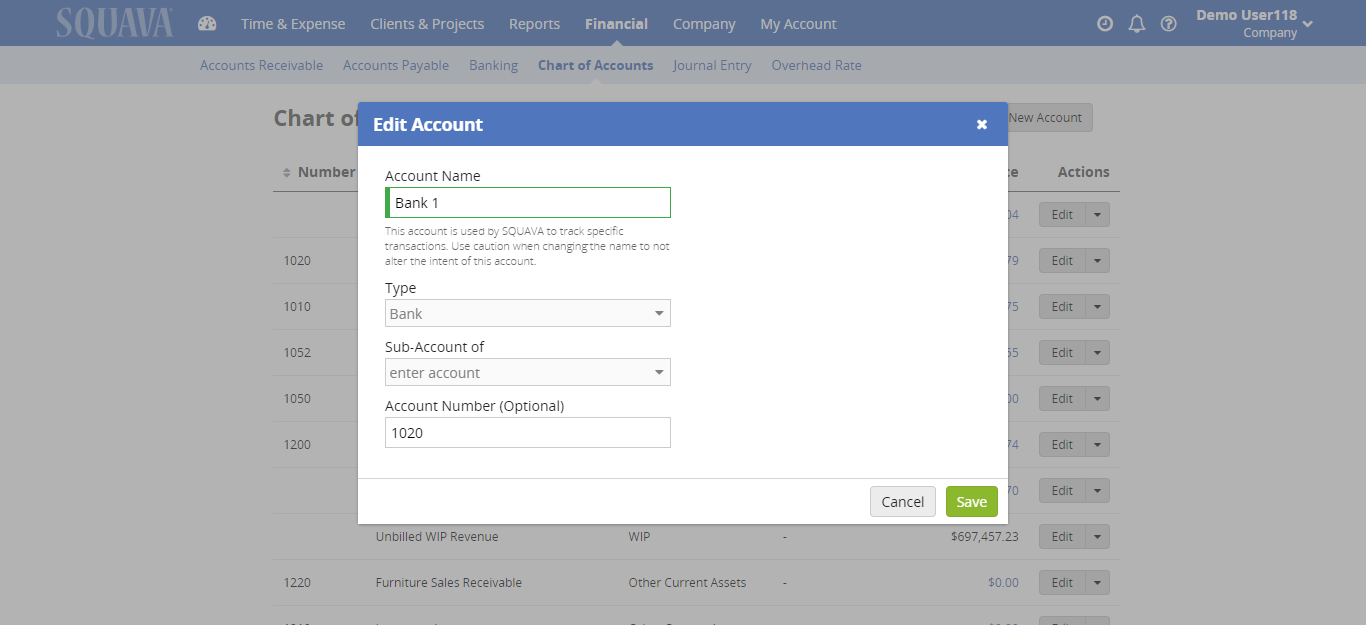 As stated above, you can delete an account by clicking on the arrow to the left of the Edit icon and selecting Delete from the drop-down menu. If you want to delete an account that has associated records, you will be prompted to select another account where SQUAVA will move the records associated with the account you wish to delete.
SUCCESS!!!
You have successfully learned how to manage your Chart of Accounts! If you have other questions related to the Chart of Accounts, see the other articles in our Accounting 101 section. Can't find what you're looking for? Try the main knowledge base search at https://support.squava.com. If you're still unable to find what you're looking for, give us a call, submit a request ticket, or send us a chat message.